Index


・How to access My timeline
・How to change the password, notification, and language settings
・About Setteings
 ┗ Profile
  ┗ Sync Slack account
  ┗ Default Search name
  ┗ Specifications of a profile picture
 ┗ Account
 ┗ Point Exchange settings
 ┗ Notifications
  ┗ Notification frequency
  ┗ Desktop notifications
  ┗ Email notifications / Slack notifications (if your Slack is linked to Unipos) / Teams notifications (if your Teams is linked to Unipos) / Push notifications (smartphone app version only)
  ┗ Notifications that can't be turned on/off individually
 ┗ Language
・Who are "Posted or clapped members"?
・How to edit a My timeline
▼How to access My timeline
You can access My timeline in three ways.
Please refer to the image below. You can access My timeline by clicking the icon image.

▼How to change the password, notification, and language settings
Click the icon on the top right-hand corner > Settings
or
My timeline > Settings

▼About Setteings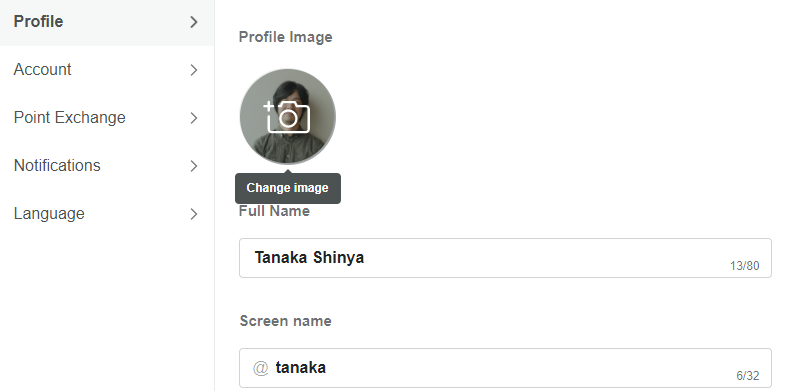 ▽Profile
You can change information Profile Images, Full Name, Search name.
When you place the cursor on the profile image, "Change image" is displayed.
・Sync Slack account
It will show that there are external tools that have been linked with Unipos.
※If the administrator has linked with Slack, it will be linked with Slack automatically.
※By clicking Sync Slack account, you can reflect the changed icon, name, and display name on Slack to Unipos.
・Default Search name
Your email address before "@" is your default Search name.
If you register your private email address with Unipos and you don't want to make it public, we recommend you update your the Search name.
※If you sync Unipos and Slack, your Search name on Slack will be reflected as your Search name on Unipos.
※It may take a few hours before the updated Search name is reflected in the search function or posts.
※Admin can also edit the Search name. If your Search name is changed without your knowledge, please contact your Admin first.
・Specifications of a profile picture
The file size must be under 500KB. There are no restrictions on size.
Recommended: A square picture (240px wide x 240px tall) with the file size under 500KB.
※The admin can also change profile pictures.
※Only JPEG and PNG file formats can be used.
▽Account
You will need to enter your current password and your new password.
※If you forget your password, you can reset it here.
▽Point Exchange settings
You can choose pay/gift card or Donation. See details here.
※"Donation" is available for users in organizations with the SDGs plan.
▽Notifications
・Notification frequency
Days to receive notifications
You can choose from "Every day" or "Weekdays only." 


※The default days for Email and Slack notifications "Every day".




※By changing the "Days" setting, you can turn off notifications on weekends.




Time zone(Web browser only.)
You can change your timezone by selecting the "Time zone settings" pull-down on your profile page.
For more information, including the time zone you can set, please refer to here.
・Desktop notifications
This function allows you to receive a real-time notification when you receive a post, even if your Unipos is not open at the time.
Please refer to "About desktop notifications".
・Email notifications / Slack notifications (if your Slack is linked to Unipos) / Teams notifications (if your Teams is linked to Unipos) / Push notifications (smartphone app version only)
You can adjust your preference for each notification type.
※The default setting is "on".
※The notification setting on the web platform will be reflected to the smartphone app too.
※To set up push notifications on smartphones , you must "Allow" Unipos app notifications from the "Settings" screen of your iOS / Android device.
・Notifications that can't be turned on/off individually
Account lock notifications, successful login notifications

Announcements by admin notifications




※Status for "inviting / waiting for sign-up" or "active" members only.

Notifications for users who have admin authority or authority to view analytics (e.g. notifications for positive reports)

Notifications in relation to the bell icon at the top right-hand corner of the Unipos screen
< Received >
・Received posts
You will receive a notification when a member sends you a post. You can react to the sender of the post through a notification.
・Posts without your reaction
You will receive a notification at 5pm on the following day when you haven't replied with a reaction to the posts you received on the previous day.
・Received claps
You will receive a daily notification at 10am about members who clapped for you on the previous day.
< Point reset >
・Point reset reminder
You will receive a reminder every Friday about an upcoming reset of your points, posts shared by the members you are following which you have missed, and your remaining points available this week.
・Point reset notification
You will receive a notification every Monday that your points have been reset.
< Members' posts >
・Recommended posts (Email notifications only)
You will receive a notification every Tuesday about some of the noteworthy items from the previous week's recommended posts.
・Posts related to members you are following
You will receive a real-time notification members you are following send or receive a post.
・Recently joined members
You will receive a notification about members who recently joined Unipos in your department.
Through the notification, you can send a welcome post or view the new members' profile pages. Follow them so you don't miss their achievements!
< Announcements from Unipos support >
・Product information
We will send you notifications of new feature updates, or when our support team contacts you, etc.
※Notifications can be set up for Slack and Teams.
< Donation >
・Impact report (Email notifications only)
You will receive a notification at the beginning of each month about the donation details of the previous month.
・Donation recipient's report (Email notifications only)
You will receive a report from your selected donation recipient once a month.
< Culture rewards > [Beta]
・Notifications about culture rewards (Email notifications only)
You will receive notifications about custom rewards (e.g. when your custom reward request has been approved).
▽Language
You can choose from Japanese or English.
※The default language for the app and push notifications are same as the settings in the Unipos on your web browser.
▼Who are "Posted or clapped members"?
Up to six members are randomly displayed from a list of the top 20 members who posted/clapped for you or you posted/clapped for.
If no posts or claps have been received or sent, six members are randomly displayed from all members within your organization.

▼How to edit a My timeline
Access your My timeline and edit information by clicking the icon marked in red above!
The maximum length of the self-information is 280 characters.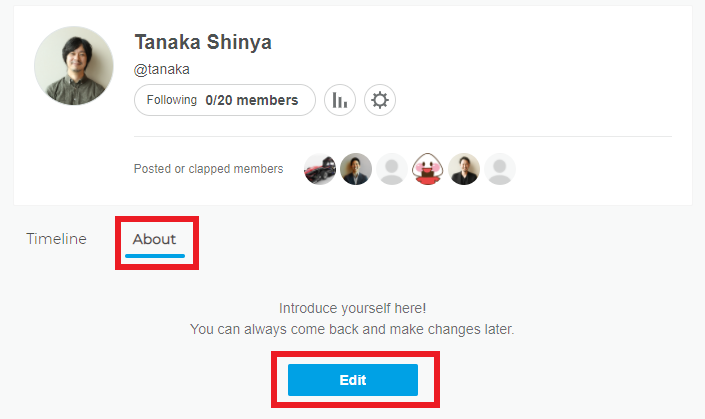 ※The admin can add profile items and example sentences from Team Admin > Team > Profile.